AMU1 Feel music
12
janv.
2017
The students involved chose two songs, one which is well known at an international level and one romanian song that is representative for their age and culture, to record. In order to choose the two songs they had to use their communication and negotiation skills. More than that, they had to put themselves in the place of teenagers from other countries, trying to guess a common famous song which can be easily recognized by all the partners involved in the project. For the romanian track they thought about hits in our countries and settled on one which is age appropriate and well liked among romanian teenagers.
They gathered in the theater of the school to rehearse and record the two songs, after which they edited the videos and made an audio CD containing parts of the music sang before.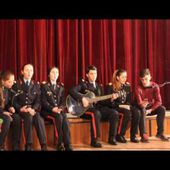 Feel Music Erasmus Body Project
Uploaded by Anca Magurean on 2017-01-12.
https://www.youtube.com/watch?v=36_hkFTwOx8&feature=youtu.be