AA7 Appearances are deceptive
17
août
2016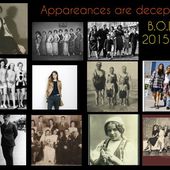 View these interactive images by A happy ThingLink User.
https://www.thinglink.com/channel/800087893325381632/slideshow
Students of the different countries observed how fashion changed in the past and what are present and future trends. A sereies of activities were held to develop the students sense of fashion and get them informed on the evolution in time. Families were involved and contributed with real past photos.
Movie Maker: appearances are deceptive
Questa funzionalità non è stata attivata dalla persona che ha fatto questa creazione. Puoi richiedere l'attivazione inviandole un messaggio personalizzato. Questa funzionalità è disponibile ...
http://www.kizoa.it/Movie-Maker/d50819314k6843215o1l1/appearances-are-deceptive