PDP7. DANCE WORKSHOP:
17
juin
2016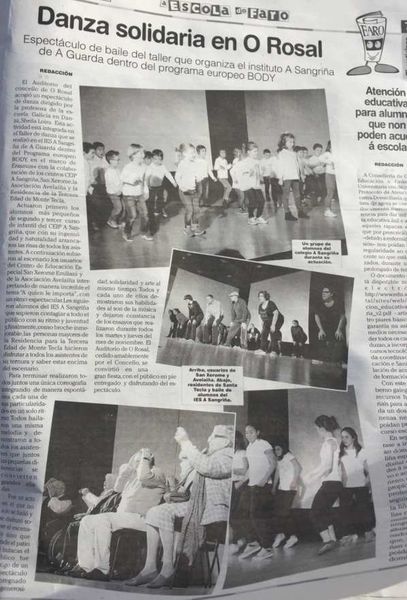 TITLE: "Anyone can dance"
Intervenient: Sheila LOIRA, dancer from "Galicia en Danza" world runners-up in the World Cup Dance 2015 (Bucarest).
Group: 50 (10 for each local partner, primary School, high school, Avelaíña and San Xerome Association for disabled people and special needs, Monte Tecla elderly Residence)
Sessions: 10 hours for each group
Dates: November – December 2015
Objectives:
The aim of the program is to improve such things as social interaction, confidence and self-esteem, fine and gross motor skills, coordination, sense of rhythm, balance and flexibility.
The goal is to enable students to feel individually empowered to the best of their ability and to give the students the opportunity to express their own unique style of dance in a safe, encouraging and happy environment.
Each group received 10 hours of dance classes, to test each part of his choreography that culminated in a joint choreography presented in a final festival, in the auditorium of Rosal attended by hundreds of people.
Outcome:
Solidarity festival dance in the auditorium. An intergenerational group of dance.