COY7. FLASH MOB DANCE
17
juin
2016

TITLE "LIPDUB":
Group:
5 primary schools, 3 secondary schools, 2 disabled people associations.
More than 500 people.
Date: 26/01/2016
Objectives:
Raise awareness, develop and activate competences, qualities and talents of young people in a non-formal way.
Activity:
<>··It was the first time that all the schools of the city were together to do a common activity. The mayor of the city attended the event and he has congratulated the San Xerome team for the initiative.
Outcome:
During this libdub making day, the creativity, enthusiasm, ideas and experience of young people is base of the input for the lip dub.
A short video of the event.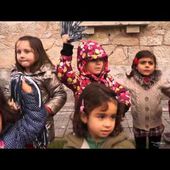 Lip Dub Día da Paz 26 01 2016. Centros Educativos A Guarda
"Que días coma hoxe nos fagan ser mellores persoas"... Este martes día 26, todos os Centros Educativos da Guarda reuníronse nos xardíns do Centro Cultural Guardés, para conmemorar o Día da Pa...