AA1. Drawing the body
20
févr.
2016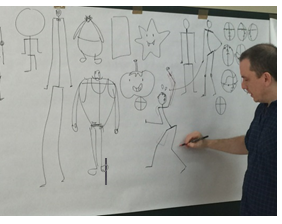 Date: February 2015
Number of sessions: 4 hours
Intervenient: Jacobo Fernández (famous Galician illustrator)
Objectives:
Know the Basic Character Anatomy ( Female and Male )
Contents:
Human Anatomy Fundamentals: Basic Body Proportions
Outcome:
Students have learnt how to draw human structure, backgrounds and lay-outs. The workshop also tackles comic's creation such as principal elements of creating characters, covers, and paneling.
At the end of the class, students have shared their own characters to share with friends and family.