APE7- Famous athlete as guest speaker
22
avr.
2016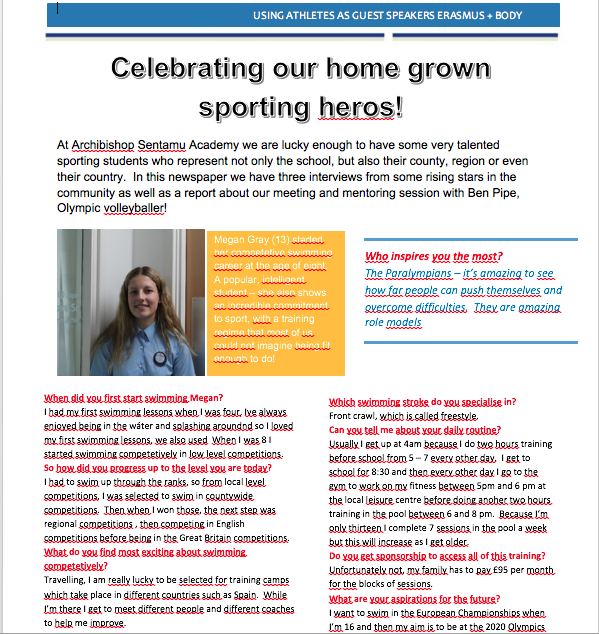 Aims and description:
•To celebrate our home grown heroes.
•To write an article on various students' sport achievements.
•To break down stereotypes in sport.
Students with a passion for sport were asked to come forward to give an interview for a newspaper that would be written about the home grown sport heroes we have from Hull and even in our own Archy community. Several students came forward to discuss their sporting successes and be interviewed but the students decided to focus on Megan Gray's success in rugby, as they were interested to discuss her intense training regime and also her dreams of entering the 2020 Olympics to represent her country in swimming. Next, the students moved on to stereotyping and discrimination in the world of sport and decided to interview Shannon Barton and Dione Blackwell to discuss their experiences in women's rugby and the much celebrated culture of rugby league in Hull. Finally, some year ten students met with the Olympian athlete Ben Pipe to conclude their Newspaper article. With Ben, they discussed how to succeed in sport and how to become the best athlete they could possibly be, whilst focusing particularly on how to become a sport's coach. Ben gave them advice and gave anecdotes of his own journey to the Olympics and to becoming a coach of athletics.
The students produced and article in the format of a newspaper article and interview, in which they discussed how to succeed in sport, become a leader, how to reach the olympics and stereotype in sport. This discussion led to them highlighting how women are still discriminated in sport in terms of pay, broadcasting and funding and how you could best eliminate the stereotype that men are bettwe than women in sport.