AMT 5 How your body talks
04
mars
2016
Student in a year 7 MFL class were asked to create a short silent movie to highlight and demonstrate how much non verbal communication we use in our everyday lives.
Having watched a number of different short silent movies, the best one was selected - this shows the story of students meting up, going out for a meal and then expressing their displeasure and complaining!
We hope you enjoy watching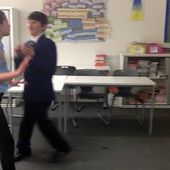 Regarder la vidéo "English Video" envoyée par collegeboris sur dailymotion.
AMT 5