ACE7 Volunteers in our community
15
févr.
2016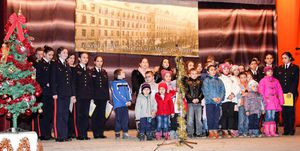 Christmas makes us better. It is the time when people reconsider their behaviour, their thoughts, their priorities. It is a moment when we feel that the only way to enjoy the beauty of the winter holidays is by giving joy and hope to the people around us.
This year our students have been involved in a series of volunteering actions that were part of the Erasmus Body project.
A group of volunteers visited Sebi, a very gifted young poet, aged 12, who unfortunately suffers from spastic paraparesis. We tried to help him sell his books, gathering money for his treatment and offered him gifts. It was an amazing feeling!
Another group, led by the priest of our school, made donations to a number of very poor families in the area. The students tried hard to gather clothes, food supplies, toys, stationary and objects that might bring happiness to others. Their attempts brought tears of joy into many people's eyes.
Last but not least, our school was visited by a group of children from an orphanage that is situated close to our town. Our guests attended the winter festival prepared by our students and sang carols, being offered gifts in the end.
All the activities managed to reinforce the spirit of Christmas and the fact that we shared so many things with the people around made us understand that each of us can make a difference.