PT7 Les Noces de Figaro
02
févr.
2016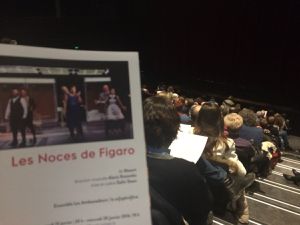 One of the operas most perfect: alloy of the splendid music of Mozart and a carried out intrigue.
Seven pupils could attend a representation inspired of the comedy of Beaumarchais, the opera written by Mozart and Lorenzo Da Ponte called "Insaneday": treatment of an intrigue in love, multiple adventures. Three hours of amazing vocal show. Figaro, servant of the Count Almaviva, loves Susanna. But he covets it…Bounces carries all the characters until the happy outcome. But on the way it is question of jealousy,debt, disguise, desire and even… of love! GalinStoev, with a young musical director, Alexis Kossenko, proposes a production of this opera in four acts which Marie the modernity and the absolute respect of the music.
L'un des opéras le plus parfait : alliage de la musique magnifique de Mozart et d'une intrigue menée tambour battant.
Sept élèves ont pu assister à une représentation inspirée de la comédie de Beaumarchais, l'opéra écrit par Mozart et Lorenzo Da Ponte porte bien son nom de « Folle journée » : traitement d'une intrigue amoureuse, péripéties multiples. Trois heures de spectacle vocal inouï.
Figaro, valet du Comte Almaviva, aime Susanna. Mais le Comte (marié) la convoite… Des rebondissements emporte tous les personnages jusqu'au dénouement heureux. Mais au passage il est question de jalousie, de dette, de déguisement, de désir et même… d'amour !
Galin Stoev, avec un jeune directeur musical, Alexis Kossenko, propose une mise en scène de cet opéra en quatre actes qui marie la modernité et le respect absolu de la musique.