ACE5. CIVIC EDUCATION "VIOLENCE PREVENTION"
20
févr.
2016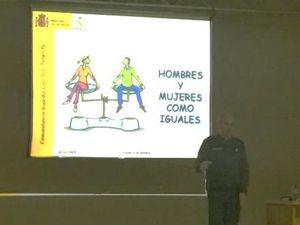 TITLE : GENDER'S VIOLENCE. WHAT SCHOOLS CAN DO?
SESSIONS: 2 SESSIONS
TARGET GROUP: TEENAGERS WITH FOURTEEN YEARS OLD
INTERVENIENT: THE LOCAL "GUARDIA CIVIL" (POLICE)
DATES: February 2016
Objectives :
Make the students grow up being responsible citizens and adults.
Emotional wellness ( being aware of feelings of joy and anger) with the help of a psychologist
Respect one's body and the others.
Body care.
Activities:
The students have collected good and bad news on newspapers about violence.
On the left "NEWS WE HAVE READ ON 2015", on the right "NEWS WE WANT TO READ ON 2016".
WHAT GENDER VIOLENCE IS? EXPLANATION BY THE POLICE.
LEARN TO IDENTIFY IT AND KNOW HOW TO FIGHT AGAINST.
COMMUNICATE THE ISSUE
Raise awareness about the problem of gender-based violence by developing an information campaign for students, teachers and parents.
EDUCATE STUDENTS AND TEACHERS
Provide training to students and teachers on the behaviors of victims and perpetrators of gender-based violence, how to respond when incidents occur, and the resources that are available for those who have been victimized. Consider how such training can be integrated into the schools' broader efforts to create a positive school climate, and delivered as part of a multitier framework for supporting positive student behavior.
REVIEW POLICIES AND PROCEDURES
Review current school policies and procedures governing student and faculty behavior – particularly protocols for intervention, reporting, and providing victim assistance – to ensure that they specifically address sexual assault, stalking, and intimate partner violence.