PE7 A role model
15
févr.
2016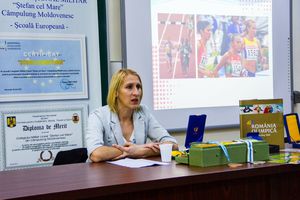 On the 8th of December 2015, we had a meeting with a famous guest : Cristina Casandra,
a Romanian long-distance runner specialized mainly in the 3000 metres steeplechase.
She was the bronze medallist at the Balkan Cross Country Championships in March 2011. She finished 5th at the 2008 Summer Olympics in Beijing, and took part in the finals at the 2012 Summer Olympics in London.
Cristina talked to the students about her carreer, about how important keeping fit is and how much practicing sport can change somebody's life. The students were curious to know many aspects about her life, her training, her self-discipline. Some of them made an interview.
It was a very inspiring moment. We have a lot to learn from the people who have achieved something in life. Cristina Casandra can become a role model for everybody. She worked hard, pushed herself beyond her own limits, never giving up and making it to the top.